False impressions of Poland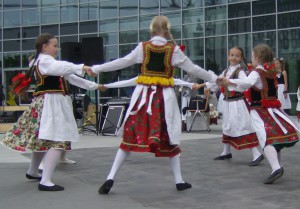 Being hidden behind the "Iron Curtain" for so many decades, we've learned that many people still have a false impression of what modern day Poland is like. I remember several years ago a guest coming here for the first time thinking everyone wore "ethnic folk costumes" on a daily basis, that we all lived in clay houses with thatched roofs, and even that chickens roamed free around our yards.
Growing up, news and images of Poland were hard to come by, and his knowledge of our country came from encyclopedias published in the early 1960s. He was also a little nervous about traveling here alone, and not knowing the language well. He tried to memorize words he thought would be necessary to make flight connections in the airports, words such as departure, arrivals, gate, and now boarding. He was a little surprised when he got here to discover that Polish people looked and dressed every bit the same as Americans. Although the architectural styles varied, our homes are not made of clay, and many have fancy tiled roofs. Even the airports had signage that were both in Polish and English, making the need to remember, or pronounce words such as Przyjazd, Wyjazd, bramka  and wejście na pokład, unnecessary, although we appreciated that he made an effort to learn a little of our language. When he realized he had forgotten to pack something, he had no problem purchasing another one at an area store or shopping mall.
When people talk about planning a trip to Europe, usually countries like Italy, France, or Germany produce the most Google searches. Tell somebody you are thinking about visiting Poland, and they may look at you strangely, and ask "Why?" Poland may not have cities with the intrigue of the Vatican, the "sex appeal" of Paris, or buzzing of an Oktoberfest celebration in Munich; however, many find it equally rich in history, and just as charming. They discover numerous cities with beautiful architecture, breathtaking churches, medieval castles, majestic mountains, romantic getaways, and of course great food. We at Discovering Roots would be happy to show you what our wonderful country has to offer, and why not start your adventure in the cradle of Polish history, Poznan.