Old Polish tradition called Tłusty czwartek – Pączki Day – the last Thursday before Ash Wednesday. In America celebrated five days later on Tuesday.
Stara polska tradycja zwana Tłustym czwartkiem – Dzień Pączka- ostatni czwartek przed Środą Popielcową. W Ameryce świętowane pięć dni później we wtorek.
Przepis na pączki Zosi
Zosia`s pączki recipe
Składniki Ingredients
12 żółtek – 12 egg yolks
22 dkg cukru – 1 cup sugar
2 szklanki mleka – 2 cups milk
1 kg mąki pszennej – 4.5 cups of whole wheat flour
5 dkg drożdży – one 2 oz  fresh yeast cake
5 łyżek masła klarownego – 5 tbsp softened butter
1/4 marmolady jakiejkolwiej – 18 oz jar of marmalade of any kind
1 kg smalcu do zmażenia – 5 cups of  lard for frying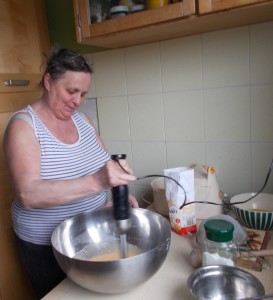 1. Zaczyn: Zmieszać drożdże z cukrem z mlekiem i dodać łyżkę mąki szczyptę mąki (gęste)
Musi urosnąć 2-3 razy pod ściereczką
Leaven: Mix yeast with some sugar and some milk, 1 spoon of flour and a pinch of salt (thick)
It must grow under the cloth 2-3 times
2. Ubij dobrze żółtka z cukrem i dodaj mąki
Whisk well yolks with sugar and add flour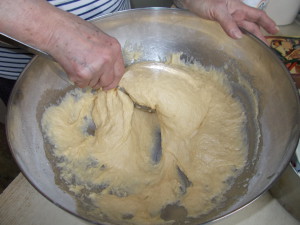 3.Dodaj zaczyn do tego
Add leaven to it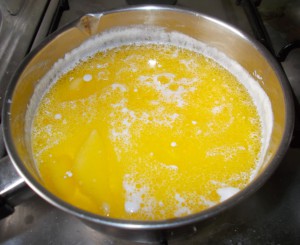 4.Rozpuść masło klarowne i mleko i schłodź i wlej do ciasta
Melt clear butter and milk, cool it and pour into the dough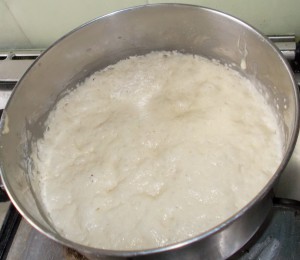 5. Wymieszaj razem i zostaw do wyrośnięcia pod przykryciem
Mix it all together and leave to grow under the cloth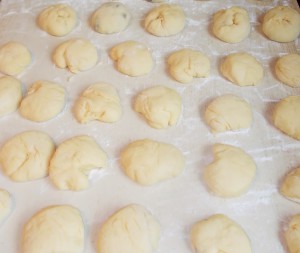 6.Weź małe kawałki i ukształtuj kulki
Take small pieces and form balls
7.Włoż marmoladę do każdego
Put some marmalade in each
8.Przykryj sciereczką i poczekaj niech wyrosną
Cover with a cloth and let them grow.
9.Kiedy urosną włoż do dużego garnka z gorącym smalcem i smaż
When they are big put them into hot lard in the big pot and fry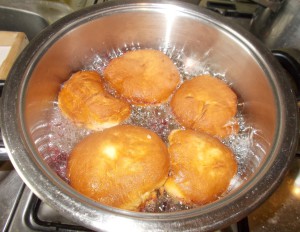 10. Odwróć je kiedy zbrązowieją
Flip them over when they turn brown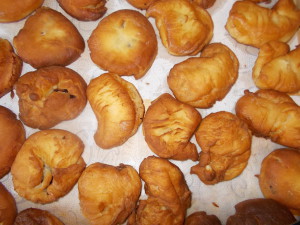 11. Kiedy zbrązowieją po obu stronach wyjmij i osusz
When brown on both sides take them out and let them dry
12. Kiedy wystygną polukruj je
When they dry put some frosting on them
SMACZNEGO!